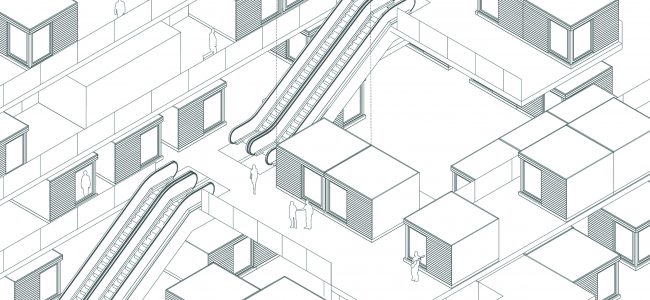 The project Existenzoptimum is the outcome of the Fokus Grupa research into architecture and design practices, informed by socialist and materialist-feminist critique, realized with the support of the Künstlerhaus Büchsenhausen fellowship and as a seminar organized at the Architecture Theory department for the students of the Innsbruck Faculty of Architecture. The project developed into a didactic process with the students Audrey Morency, Anouk Muller, Pol Olk and Laura Winterberg. The seminar was initiated through a series of lectures and discussions, which explored the value systems produced and reproduced through material practices such as design, architecture and art.
Departing from historical case studies that proposed architecture for alternative social structures, we have tried to put emphasis on architecture's role in emancipatory social transformation rather than its latent support of the status quo, or indeed social oppression. The question we propose is: which scenarios of the everyday do we want to build into our built environment and what kind of architecture would facilitate them? The students were given a task to propose model housing, taking their cues from the lectures and discussions around the reading materials, which would envision a dwelling system for a more egalitarian society of the near future. Their main point of departure was an analysis of the elements of living arrangements proposed by Viéra Pavlovna and Dmitri Sergéitch Lopuhkov, the protagonists of the book What is to Be Done? (1863) written by the Russian philosopher, journalist and literary critic Nikolay Chernyshevsky. In an attempt to establish a new form of shared living, one with equal power relations, Chernyshevsky's protagonists agree to live in separate rooms, where each of them can enjoy their privacy and autonomy, with a shared living room, or a parlor, which they treat as a public space, a space that has to be negotiated between them. This proposal provides an alternative to the domesticity of family life.
The project intends to open up the questions about the way the individuals may want to relate to each other, or cohabit with each other, forming these questions as architectural propositions.
Students: Audrey Morency, Anouk Muller, Pol Olk and Laura Winterberg
Lecturers: Fokus Grupa (Iva Kovač & Elvis Krstulović )
The project Existenzoptimum, will be presented in the framework of the exhibition Nuisance Value at Kunstpavillion Innsbruck, curated by Andrei Siclodi with projects by Andrea Bellu & Matei Bellu, Fokus Grupa with Audrey Morency, Anouk Müller, Pol Olk, Laura Winterberg, Anthony Iles & Marina Vishmidt, kuda.org & Group for Conceptual Politics & Zoran Todorovic, Benjamin Tiven & Erik Wysocan.
Exhibition opening: June 16, 7pm
Open until: July 30
More about the exhibition:
http://www.buchsenhausen.at/modules.php?op=modload&name=PagEd&file=index&topic_id=16&page_id=992
Hotel-Camp: Liminality and Heterotopia in Tourism
Talk by Michael Zinganel
Invited by Fokus Grupa
Tue June 21, 2016, 7.30 p.m., Kunstpavillion
In the context of the artistic research by Fokus Grupa, architectural theorist, artist and curator Michael Zinganel will be speaking about hotel-camps, liminality and heterotopia in tourism. The talk will take place at the Kunstpavillon of the Tiroler Künstlerschaft at 7:30 pm on Tuesday 21st June, 2016.
More about the talk:
http://www.buchsenhausen.at/modules.php?op=modload&name=PagEd&file=index&topic_id=16&page_id=999