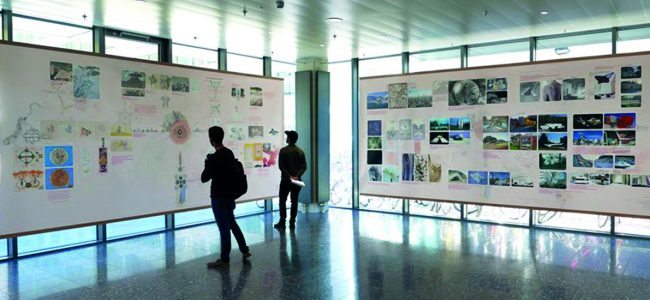 Cooperation of Innsbruck University Faculty of Architecture & FRAC Centre Orléans
Biennale d'Architecture d'Orléans 2017/18 | Walking through someone else's dream
This exhibition is realized on occasion of the invitation by the FRAC Centre, one of the most prominent architectural museums in the world, to select works from its great collection, which relate to the cultural identity and position of our faculty. The question coincidentally gave us a completely new insight into who we, the Faculty of Architecture of Innsbruck University, possibly were, are today and might want to be.
It is time to reflect on the position and direction of our faculty and consider further strategic development to maintain and improve it. What singles out the Faculty of Architecture of Innsbruck University today among other schools culturally? This exhibition intends to provoke a contemplation and debate on this cultural identity by emphasizing only one aspect: it's relation to a shared intellectual past. We hope this exhibition provokes reactions from students and staff.
The identity of our school was never really discussed. It has a history, of course. It was founded in 1969 and grew from series of tenures, discussions, agreements and fights. The most radical and profound of the latter was the divorce from the engineers twelve years ago, bringing together and bonding a group of professors and staff that believed architecture was not just a technical discipline. Today, in 2017, we find a largely new faculty, which—surprisingly—is more homogeneous than any of the earlier teams. It finds itself among the 50 best architectural schools in Europe for already several years in a row.
One of the remarkable things connecting most of the professors at the Innsbruck Faculty of Architecture today is their intimate ties to the Austrian avant-garde of the nineteen sixties and seventies, even if most of them are not even Austrian themselves. They continue the legacy of the Austrian avant-garde regarding an experimental approach to architecture in questions about nature and artificiality as well as the body and technology. Moreover in the search for design strategies for the Anthropocene and in experiments related to the actual debate of Post- and Transhumanism.
Bart Lootsma /Alexa Baumgartner / Alexandra Angerer