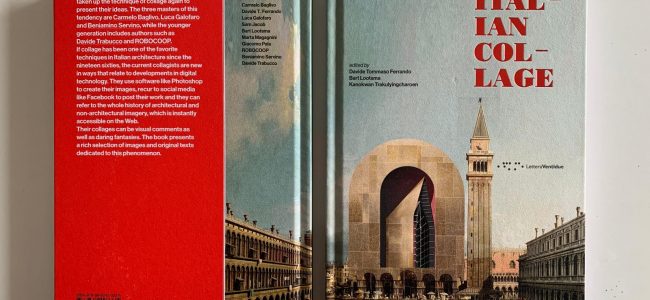 The latest book by architecturaltheory.eu is Italian Collage, edited by Davide Tommaso Ferrando, Bart Lootsma and Kanokwan Trakulyingcharoen. It's one of the results of a longer, shared interest in the way new media, in this case social media in particular, shape architectural discourse.
This book is the result of an inquiry into a specific category of contemporary architectural drawing:  digital collages produced by Italian architects who extensively use social media, notably Facebook and Instagram, for their dissemination. Of course, they also publish their work in more traditional media, such as magazines and books, and present it in exhibitions and installations, but the new opportunities the Internet offers to publish ideas and works by oneself, without the necessity of editorial boards, publishers or shops, and thus to diffuse them instantly and at a high frequency among (much) wider audiences than before and get immediate feedback from them, seem to be related to form and content of the work. It was also clear to us that the protagonists knew each other, followed each other, talked to each other, both verbally and often through their collages.
As the relationship between architecture and media is one of the focuses of research at the Department of Architectural Theory of the University of Innsbruck, this did not escape our attention and led to lively debates. The first outcome of these discussions was the symposium Italian Collage, Architectural Drawings in the Age of Social Media we organized in the Kunstraum Innsbruck on the 12th of December 2014, with contributions by Bart Lootsma, Davide Tommaso Ferrando, Stefano De Martino, Luca Galofaro, Carmelo Baglivo, Beniamino Servino, Marta Magagnini, Alexa Baumgartner and Kanokwan Trakulyingcharoen.
At the time, the phenomenon addressed by the symposium was still young but enough material, works and texts, had already been produced to question what was going on here.
Today, five years later, architecture-related media outlets, from printed magazines to social networks, are engulfed with so-called "post-digital" drawings, which have by now established themselves as one of the main forms of architectural communication, particularly recurred to by younger, "hipster" practices. Still, a lot can be learned from this special moment in Italian architecture.
This book is organized in three main parts. The first part gathers a series of essays written between 2014 and 2019 by Bart Lootsma, Davide Tommaso, Kanokwan Trakulyingcharoen and Giacomo Pala, all members of the Department of Architectural Theory of the University of Innsbruck, and by Marta Magagnini, a specialist in the field of the representation of recent Italian architecture from the University of Camerino.
The second part of the book is dedicated to an in-depth exploration of the work of three of the most representative authors of Italian Collage: Beniamino Servino, Carmelo Baglivo and Luca Galofaro. It contains portfolios of their work and original texts written by them on the occasion of the symposium in Innsbruck. This section is enriched and closed by the transcription of a conversation between them and Davide Tommaso Ferrando in October 2019, which updates and critically evaluates the scope of their drawing practice.
The third and last part of the book gathers the visual researches of two younger authors, Davide Trabucco and the artistic duo ROBOCOOP, whose approach to architectural collage continues the road taken by Baglivo, Servino and Galofaro, in a different, but no less interesting way.
Italian Collage can be ordered among others at Lettera Ventidue:
https://www.letteraventidue.com/it/prodotto/412/italian-collage?fbclid=IwAR1BneYv9lXsyVwCoAV7kMVsXobDALBZQ9jyo-k5Mh39gVHxWTWNri5zpGw
Bart Lootsma